MegaVision Imaging Products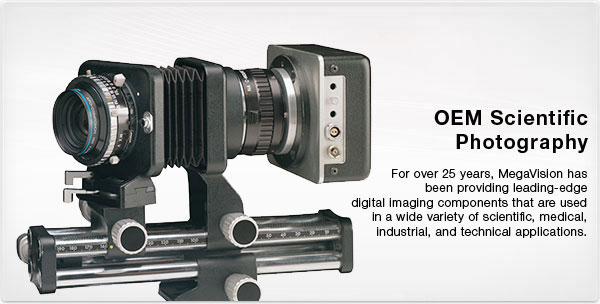 MegaVision imaging hardware, together with image capture and image processing software libraries that enable the hardware to be quickly and easily integrated into customer developed systems, has provided cutting edge capabilities to customers who are leaders in their markets since the earliest days of digital image capture.  MegaVision specializes in adapting products to satisfy customer requirements and effect rapid integration into highly robust systems.
MegaVision OEM Scientific
UV-IR ApoChromat

The MegaVision 120mm f/4.5 Macro UV-IR Apochromat is an innovative view/technical camera lens that incorporates both floating element and advanced UV-VIS-IR apochromatic color correction technology. Six ED glass elements and one aspheric element are used to achieve an unprecedented level of performance for multispectral documentation, forensics, scientific imaging, and fine-art photography..
UV-IR ApoChromat description and specifications
E1-i

The E1-i digital camera/camera back is designed for flexible image capture in relatively low-light applications where it's 2-megapixels enable rapid readout and high sensitivity.  It provides good dynamic range, live focus, electronic shuttering, and easy integration.  When interfaced with an appropriate host computer and coupled to an optional C-mount or F-mount lens adapter, the E1-i becomes a complete camera system.
E1-i description and specifications
E1-i-RIC

The E1-i-RIC (Retinal Image Capture)  digital camera back is designed exclusively for non-mydriatic capture of retinal images with low power xenon flash illuminant. With the RIC back, MegaVision delivers another milestone in ophthalmic imaging leadership - raising the bar of image quality while lowering the barrier to broadly deployed non-mydriatic image capture for retinal disease screening, monitoring, and treatment.
E1-i-RIC description and specifications
E2-i

The E2-i is ideal for configuration as a macro camera.  3D macro work, such as in jewelry, forensics and  biological photography  often cannot take advantage of large pixel arrays because of the depth-of-field limitations imposed by the optics.   A  camera with a smaller sensor such as that in the E2-i satisfies the  need for a dedicated macro camera at an affordable price. 

E2-i description and specifications
E2-i-RIC

The E2-i RIC is a 4 megapixel back which is optimized for use in fundus photography.  It may be supplied in an OEM configuration that can be coupled, with appropriate relay lens optics supplied by the OEM, to a range of fundus cameras.  Lens adapters for both C-mount and Nikon F-mount are available for custom configurations.


E2-i-RIC description and specifications
E3

The E3 features the renowned FT2020 6.3 megapixel, 36mm X 48mm full frame sensor.   Variations of the E3 are widely used in commercial and medical environments.  It is both the image quality  leader of Fluoresceine angiography and  the workhorse of retinal practices.  The predecessors to the E3, the S3 and the CFA,  changed professional photography and  retinal photography forever.  With a data rate of 10 mpixels/second, an image may be captured and transferred from to a host computer in well under 1 second. 
E3 description and specifications
E427-i

The sensor of the E427-i is an 11 megabytes, 4000 X 2700, full 35mm form factor (24mm X 36mm) with integrated electronic shutter.   Because it includes an integrated electronic shutter and live focus, it can be a complete camera system with the simple addition of a 35mm lens. 
E427-i description and specifications
E4

The E4 is built around a  36mm square, 16 megapixel (4096 x 4096)  full-frame CCD.  The E4 offers  enhanced quantum efficiency and improved image quality at higher spatial frequencies, lower noise for improved contrast in areas of high density, and anti-blooming protection to prevent image bleed from over exposure in regions near deep shadows. The image sensor with its large imaging area and relatively large pixel size provides the sensitivity, resolution and contrast necessary for various high quality image applications. The E4 is available in both color and monochrome.
E4 description and specifications
E6

The E6 is MegaVision's 39 megapixel solution to uncompromising medium format digital image capture.  With a full frame sensor that is twice the size of full frame 35mm format, the E6 provides image quality impossible to match with smaller format image captures.  With an image area of 37mm X 49mm, the E6 can take advantage of the best technical camera lenses.    With a data rate of 24mpixels/second, an image is transferred from the E6 to a host computer in just over 2 seconds. 
E6 description and specifications
E7

The E7 is based on Kodak's 4-tap, 50 Megapixel KAF-50100 CCD and features sustained captures of 50 Mpixel images at about 1.2 seconds per frame via a Camera Link or Gigabit Ethernet interface to the host computer.
E7 description and specifications