MegaVision Archival and Cultural Heritage Imaging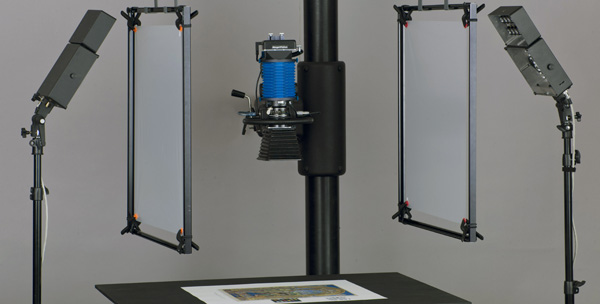 Digital imaging's impact on the guardians of our cultural heritage treasures is profound. Digital imaging has opened new avenues of research, offered new opportunities of service, and permanently altered perspectives on preservation and conservation. Digital imaging, while unquestionably nascent, offers such compelling promise that even in its infancy it is being widely deployed and is beginning to deliver on some of its promises.  The many initiatives underway realize to varying degrees the promises; some would be well served with additional careful consideration of the goals.  In a rush to deploy, the digital image data that is collected often leaves much to be desired. The EV™ system has been developed to provide digital imaging capabilities of sufficient integrity and scope as to more than satisfy a range of goals which other imaging technologies not only do not, but in large measure cannot, contemplate.
The EV™ system integrates two previously disparate imaging capabilities: High- resolution photography and multi-spectral imaging. It captures very high resolution, high dynamic range, and highly repeatable digital images over a range of 12 or more spectral bands from the near ultra-violet to the near infra-red. The spectral bands are created not by using band pass filters to filter the light after it is reflected from the treasured object, but by using narrow-band LED illumination which subjects the treasure to only the light energy that is required to expose a highly sensitive, unfiltered monochrome sensor. This strategy results in orders of magnitude reduction in the light energy to which the treasure is exposed, and provides images of unprecedented resolution, registration, quality, and spectral content. Because the capture process is highly repeatable and because the captured image metadata is replete with not only artifact and collection specific data but also with capture specific detail, the captured images are documentary milestones that will be used not only in current conservation, preservation, scholarly, and reproduction  initiatives, but by those of future generations as well. The image datasets acquired by the EurekaVision™ technology become, in and of themselves, assets of scientific and historical value.
The EV™ multi-spectral imaging system is designed for preservation and scholarly studies of cultural objects, for studies of parchment, paper, papyrus, fabric, dyes, inks, paint, and other constituents of valuable objects, and for accurate color reproduction of cultural objects and art. The system includes an advanced large-format digital camera, a low-heat multi-spectral LED illumination system, operational software, and selected peripherals all operating as an efficient integrated system.

The EV™ system offers simplicity of design and operation with state-of-the-technology equipment for precisely controlled scene illumination, automated and controlled image collection, and efficient handling of captured image data and associated metadata. Image capture with a monochrome sensor yields unrivaled image quality. Illumination in distinct spectral bands with LED's provides efficient high quality light with limited heat and yields precise spectral response for scientific studies and color reproduction.
Digital Camera: MegaVision EV

The EV Camera, which includes MegaVision's Monochrome E7 50-megapixel back (other lower resolution digital backs are also available), computer controlled shutter, computer controlled aperture, custom hyperspectral lens (parfocal and responsive over the entire range of silicon sensitivity), and purpose-built technical camera body is at the heart of the EV multispectral system. Each element of the EV camera is designed to provide meticulous control and solve imaging problems encountered when imaging priceless objects of great importance over a large spectral range. Some key metrics of the EV camera performance:


Digital Back: MegaVision 50 megapixel E7 Monochrome, rotates to any angle
Camera Body: rail and bellows, 13 cm travel, standards fixed co-axial to optical axis, rear standard focusing.
Lens: Any Copal-0. Recommended: MegaVision's unique 120mm f4.5 hyperspectral; Parfocal with execllent sensitivity from 350 to 1,000 nm.
Shutter: Copal-0, 7 leaf, 1/60 to 60 seconds, computer controlled and powered via USB, rated for over 1 million exposures.
Dynamic Range: 12 bits per channel: 14bit ACD
File Size/wavelength: 100 Mbyte/channel at 16 bits, 50 Mbyte/channel at 8 bits.
Capture Rate: One image frame per 2 seconds, subject to illumination constraints.
CCD Array: 8176 x 6132 pixels, 6.0 micron pixel size.
Equivalent Film Speed: Adjustable; 100, 200, & 400 ISO.
Connectivity: Gigabit Ethernet
Software: Photoshoot™ Operating System: Windows 7.
Options: Color filter wheel, lens shade, 2nd "focus keeping" rail, laser alignment bar
E7 description and specifications
Illumination: EV™ LED Illumination System

A revolutionary EV™ LED illumination system provides unprecedented opportunities in imaging and image quality. This system enables imaging in multiple distinct narrow spectral bands or combinations of spectral bands over a range of wavelengths from the near ultraviolet to the near infrared.
The lighting system is fully integrated with MegaVision's Photoshoot™ software and typically includes light emitting diodes (LED's) with 10 to 20 specific wavelengths, for example:
UV 365, 395 nm
Visible 420, 445, 470, 500, 520, 560, 590, 620, 630, 650 nm
Infrared 700, 735, 780, 860, 940, 1050 nm
Choice of 1 or 2 different spectral bands for raking illuminators.
Advantages of LED illumination

High efficiency reduces heat and stress on the objects in the scene.
Elimination of unwanted IR wavelengths prevents registration difficulties caused by object motion due to heating.
The light is utilized more efficiently than white light. Ordinary photography which employs broad-band white light subjects the object to a great deal of unnecessary light energy. The majority of the light energy in white light is discarded by normal color camera filtration after the light has interacted with the objects in the scene. White light must be filtered at the camera after the scene is subjected to unnecessary light energy. With narrow band LED illumination, no filtration is required. The light energy is used much more efficiently, and only enough light to properly expose the objects in the spectral band of interest is generated. Unused light energy is eliminated before it is created at the source of the light, rather than after the light hits the object in the scene. This means that the object is subject to less light stress, and the lighting system requires dramatically less power.
Because narrow-band LED's emit no light outside the specified band, there is no need to filter IR light from the sensor. The IR cutting filter can be eliminated. Eliminating the IR filter removes an optical element from the image forming path and substantially increases light efficiency, enabling reduced exposure and greater S/N.
EV LED's provide highly specific, low maintenance, and very repeatable light. Panel spectral properties are consistent from shot to shot and year to year. Lumens/watt is stable.
Normal lifetimes of up to 50,000 hrs.
Rapid switching times (< 50 µSec) allow pulse width modulation and precise exposure durations.
Lighting Configuration

Each light head is 19cm X 12cm X 5.2cm (7.4" X 4.7" X 2" ).  The panels mount with standard professional light stand mounting studs.  Inside each panel are modules that are configurable.  Each panel may be configured to include up to 13 different spectral bands with a total power of about 240 Watts.  For example, the panels may be configured with only 7 visible bands, or may additionally include several IR bands and a UV band.  Custom configurations are available to satisfy specific customer requirements.
The panels are powered and controlled via a power pack with an integrated USB Hub.  Up to 6 panels may be powered from a single power pack.  A single USB cable from the power pack to the computer enables Photoshoot™ software to control multiple light panels. Panels may be tiled to form larger units.   Photoshoot™ can simultaneously control up to 14 individual panels.
Software: MegaVision Photoshoot™

MegaVision's Photoshoot™ digital image capture software is a comprehensive capture program designed to work with MegaVision's line of digital camera backs. Photoshoot™ controls all aspects of image capture: shutter duration, aperture, light duration, light power, selected wavelength(s).   Photoshoot™  transfers captured images in uncompressed raw format from the camera directly into computer memory at about 40 megapixels/second.  A 12-band image capture typically requires less than one minute. Photoshoot™  immediately creates and places thumbnail previews into an "electronic proof sheet" on the computer monitor.  Photoshoot™'s tools for measuring and setting exposure enable precise adjustment of illumination to guarantee the very highest image quality over the entire spectral range.
Photoshoot™ implements metadata support based upon EXIF and IPTC standards which may be customized to embed database information directly into the image files.  Photoshoot™ enables automatic naming and organizing of captured images based on associated metadata.
Photoshoot™ software controls the EV LED panels and the digital shutter and aperture in an integrated fashion.  Photoshoot™ also controls an optional color wheel should additional light modifications be desired (such as polarization or filtration to isolate fluorescence in concert with UV illumination).
Monochrome Image Capture
A MegaVision E Series camera with a Monochrome sensor is superior in several ways to cameras with color sensors.   Image capture with a monochrome sensor offers the following advantages:
A monochrome sensor doesn't have residual artifacts left over from the color sensor's Bayer (or other) pattern filtration.
Without the Bayer filtration's ISO robbing filter factor, the mono back utilizes over twice the light from the scene, resulting in over twice the Signal-to-Noise ratio for a given illumination.
The need for interpolation (developing) and anti-aliasing filtration common to Bayer pattern dSLR devices is eliminated. Image resolution is increased, image purity is unrivaled, and image processing time is significantly reduced.
Fewer optical elements lie between the scene and the silicon.
Spectral confusion due to Bayer filter transmission overlap is eliminated, thereby reducing potential metameric failure and allowing improved display/printing flexibility.
When used with narrow-band LED illumination, there is no need to filter infra-red light from the sensor.  Eliminating the IR filter substantially increases camera sensitivity, further increasing S/N for a given illumination.
read more about Monochrome Image Capture

Color Capture With a Monochrome Sensor and LED Illumination
While the human color vision system is functionally tri-stimulus, our retinal spectral response curves can't be replicated by a simple set of 3 band-pass filters. Somewhere in the range of 5-8 bands are required to get enough spectral information to make a good match to human vision. Attempts to make practical systems utilizing multiple band capture with color filters between the scene and the sensor have not been successful (for reasons that can be readily appreciated).
By coming at the problem from a different angle, namely, creating the color bands at the source of the light (using LED's), the EV™ system solves the intractable practical problems.
Capturing sufficient perfectly registered and highly repeatable spectral bands is an enabling technology for deploying semi-automated, high-quality color reproduction. With tri-stimulus capture, color matching over a practical range of commonly encountered dyes, pigments, plastics, and other materials is sufficiently poor that individual, scene-specific color adjustments must be performed to obtain the desired quality. This color-matching step is sufficiently time consuming and costly that it is practical to create high-quality color reproductions of only the most expensive originals. The EurekaVision™ approach can dramatically reduce the amount of labor intensive post-processing of the image data and provide highly accurate color reproduction of a very wide range of difficult subjects. 


For the curators, scholars, conservationists, and preservationists whose guardianship of the priceless treasures of our cultural heritage we deeply appreciate, MegaVision has developed the EV™ multi-spectral imaging system.

The EV system integrates two previously disparate imaging capabilities: High- resolution photography and multi-spectral imaging. It captures high resolution images over 12 or more spectral bands from the near UV to the near IR. The spectral bands are created not by using band pass filters to filter reflected light, but by using narrow-band LED illumination which subjects the treasure to only the light energy that is required to expose a highly sensitive monochrome sensor.



Imaging service tailored to your needs. Read More



MegaVision is the leader in: