Latest News
Treasured 16th-Century 'Lenox Globe' Gets a Digital Makeover
NEW YORK PUBLIC LIBRARY, New York, January 14, 2015
Tanya Lewis, Staff Writer
In a dark room at the New York Public Library, a cartographer, a curator of rare books and a handful of scientists crowded around a camera ringed by colored lights. All eyes were trained on a small, copper sphere about the size of a grapefruit: the Lenox Globe, the oldest surviving globe to depict the New World.By imaging the globe from top to bottom and conducting a 3D scan of it, the researchers plan to provide a precise digital record of the object that will last for generations, giving scholars and members of the public a glimpse at what people knew about world geography in the early 1500s. Chet Van Duzer, a cartographer currently based at the Library of Congress in Washington, D.C., is leading the effort to image the ancient orb.

Credit: Jonathan Blanc/The New York Public Library
---
Decoding the Lost Diary of David Livingstone
SMITHSONIAN, Washington, D.C., November 24, 2014
Rachel Nuwer
Modern technology allowed researchers to reveal that the good doctor was not all that the public presumed

But until very recently, the diary was completely illegible. Having run out of paper and ink, Livingstone used the juice from a local berry to write on an 1869 edition of The Standard newspaper that a friend had sent him (he didn't receive it until 1871). In 1873, Livingstone died in a small village in Zambia, having succumbed to malaria and dysentery. His diary was shipped back to England along with Livingstone's body, but as early as 1874, the juice had faded to the point of near-invisibility, and the newspaper's dark type further obscured efforts to decipher it. So for nearly 150 years, Livingstone's secrets remained firmly locked away on those faded sheets.
---
800 year old Magna Carta manuscript reveals its secrets
BRITISH LIBRARY, LONDON, October 7, 2014
Christina Duffy (@DuffyChristina), Imaging Scientist
Ground-breaking multispectral imaging work of the British Library's burnt copy of the 1215 Magna Carta has recovered text which has not been read in 250 years. This work has been completed by British Library conservators and scientists in preparation for next year's 800th anniversary of the sealing of the Magna Carta. The so-called 'burnt' copy of the Magna Carta is one of four original manuscripts from 1215 which survive.
---
Martellus Project: Multispectral imaging used to reveal map's secrets
NEW HAVEN, CT, Yale University, August 15, 2014: This week at the Beinecke Rare Book and Manuscript Library, from August 11-19, an interdisciplinary team is at work on a multispectral imaging project to facilitate the study of a 15th century world map by cartographer Henricus Martellus. The map likely influenced Christopher Columbus and is representative of his geographical views.
Read More > (Updated 10/21/2014)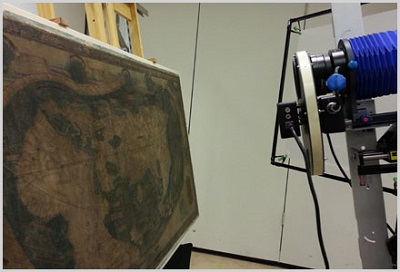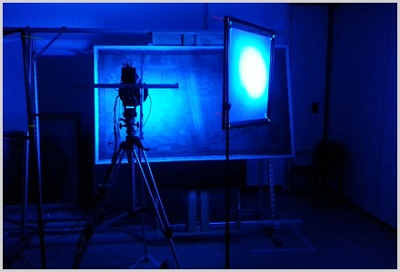 ---
Gospels of Vercelli: The Earliest Surviving Manuscript of the Old Latin Gospels (Circa 350 CE)
SANTA BARBARA, Calif., August 2014: In July, 2014, Ken Boydston, CEO, traveled to Vercelli, Italy, to assist in the imaging of the Gospels of Vercelli using the MegaVision Multispectral Imaging system. This trip was part of the Lazarus Project managed by Gregory Heyworth of the University of Mississippi, and included Roger Easton of the Rochester Institute of Technology, Keith Knox of the Air Force Research Lab of Maui in Hawaii, Dale Knox, Damianos Kastotakis (Saint Catherine's Monastery) and Liz Bondi, a student at the Rochester Institute of Technology.
This undertaking was reported, among other publications, in the Osservatore Romano, the official newspaper of the Vatican.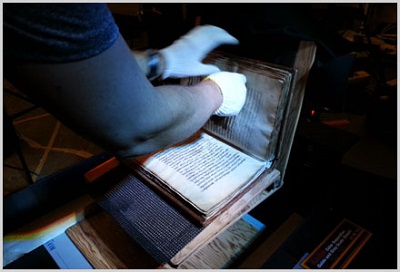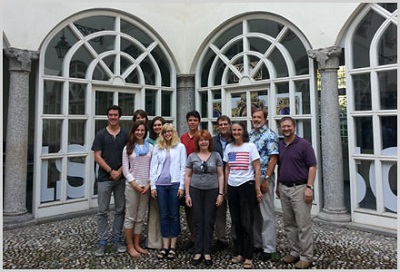 ---
Dead Sea Scrolls Project Passes a Significant Milestone
JERUSALEM, Israel., January 1, 2013 - MegaVision's multi-year Dead Sea Scroll project passes a significant milestone with the announcement by the Israel Antiquities Authority and Google that public access to the multi-spectral images captured by MegaVision's EV system is now available.
Read More >(Updated 11/20/2014)
---
MegaVision Imaging Collaborators Participate at Eikonopoiia
SANTA BARBARA, Calif., Oct. 1 - MegaVision is pleased to recognize the participation of digital imaging associates in the upcoming symposium, Eikonopoiia, which will take place in Finland later this month.
---
MegaVision Announces E7 Camera Back
SANTA BARBARA, Calif., Sept. 13 - MegaVision is pleased to announce the E7 digital camera back. Based on Kodak's 4-tap, 50 Megapixel KAF-50100 CCD, the E7 features sustained captures of 50 Mpixel images at about 1.2 seconds per frame via a Camera Link or Gigabit Ethernet interface to the host computer.
---
MegaVision to Announce Multispectral Breakthrough at Photokina
SANTA BARBARA, Calif., Aug. 13 -- Digital photography pioneer MegaVision Inc. will unveil its new multispectral imaging system this September at Photokina, the world's largest trade show for photography and imaging.
---
MegaVision Images Dead Sea Scroll Fragment in Minneapolis
SANTA BARBARA, Calif., July 27 - MegaVision Inc. announced that it will participate this week in the imaging of a fragment of the Dead Sea Scrolls at the Science Museum of Minnesota in St. Paul.
---
MegaVision Captures Text of Damaged Manuscript in Dresden
SANTA BARBARA, Calif., July 1 -- MegaVision announced today that company President Ken Boydston traveled to Dresden, Germany, in June of this year, for the imaging of Les Esches d'Amour (The Chess of Love)--a 14th-century manuscript of a Middle French poem--at the Saxton State University Library. A team of imaging scientists used a digital camera system devised by MegaVision to digitally capture the text of the badly damaged medieval manuscript text.
---